If I have learned anything in life, I have learned that discernment never ends. Even after you discern the vocation God is calling you to, there are constantly different situations that need prayerful discernment.
It might be discerning which house to buy or how many children to have or what job to take; every year has its own challenges and decisions to make. Just when you think you "have it all figured out," something new pops up!
Discerning God's will is a vital part of our lives and is directly connected to putting on the "armor of God." One piece of armor that St. Paul writes about in his letter to the Ephesians is having "your feet shod with the preparation of the gospel of peace" (Ephesians 6:15, Douay-Rheims). In St. Paul's historical context, Roman soldiers wore "caligae" on their feet, which were military sandals to protect their feet on long marches and were an aid in battle.
For Christians, we are commissioned by Christ to bring the Gospel to all corners of society and we do that most especially through fulfilling God's will. By following God's will in our lives, our feet are prepared to be bring Christ's Gospel of peace into the world.
However, discerning God's will is not easy and can be very confusing. I know this from personal experience and want to share a portion of my own story in following the will of God. I will break it down into three main points that you can then use in your own discernment.
1. Approach Every Decision in a Spirit of Prayer
Personally I have had to discern God's will many times over the years. At first I had to make the big decision of what to do after high school. In the last two years before I graduated, I had a deep conversion and sincerely wanted to do God's will. At first I thought I was called to enter college to study graphic design and then get married. While praying, I didn't have a lot of peace about the situation, but I really liked this girl that I was dating. I didn't want to give it all up, so I persisted and applied to a local university.
Then circumstances changed during the last semester of my senior year and we had to end the relationship. I wasn't sure what I was supposed to do, but I had a sneaking suspicion that I needed to enter seminary to study to become a priest. So, I returned to prayer and spent most of my free time in front of the tabernacle at a local church. At the time I had been developing an affection for Saint Thérèse of Lisieux and decided to pray her famous "Rose Novena." Lo and behold, on the ninth day I entered the local church and there was a single red rose at the foot of the altar. It was not in a vase and was simply propped up against the altar….a very strange place for a single rose! I took it as a sign that I needed to apply to seminary.
I entered seminary in the Fall of that year and spent the next three years growing in my faith. I treasure those three years and am eternally thankful for them. However, in my third year I felt a calling to explore the religious life. I took it to prayer and visited a few religious monasteries. I felt a lot of peace at one in particular and decided to apply to enter. I was accepted and then discontinued my seminary studies. Shortly after that decision, I felt great agony and unrest, yet I persisted and ignored my feelings. In that same summer before I was to enter this particular religious monastery, there were a series of events that led me to return to prayer and discern a call to married life. 
I felt at peace with the decision and returned to college to finish my senior year instead of entering the monastery. I then got married the summer after my senior year and soon after had to discern where to live and what job to take. Everything fell into place quite naturally and went very smooth. Shortly after that, however, I still needed to discern whether or not to stay at the job I had, which was only part-time. All other doors closed and I remained at my job, which was then made into a full-time position.
Since then, we have moved twice and have had four children. For each decision we were united in prayer and felt at peace, knowing that we were doing God's will. It may not have been an easy decision and sometimes great suffering accompanied it, but we always had an interior peace that confirmed we were following the will of God.
2. Seek the Advice of People You Trust
Through all the many twists and turns in my own story following God's will, I not only turned to prayer, but also turned to other people for advice. First of all, I spoke at length with my spiritual director. This was easy to do while I was in seminary, but I was able to speak with several different priests both before and after seminary who gave me great advice. In seeking God's will it is very important to bring your decision to those who act "in the person of Christ;" priests that you trust. God can work through them to reveal His will to you.
In addition to seeking the advice of a trusted priest, I also sought advice from friends who knew me very well and were willing to be honest. Often we can be so engrossed in a situation that we need someone from the "outside" to look at everything and offer their own assessment of it. It is important to be selective in this process as not everyone is willing to be honest. However, this is an important step in discernment. I do not recommend keeping your discernment quiet and to yourself. We must bring it out into the open to test it and see if it is true.
3. Don't Wait for an Earthquake
One very common mistake that many of us commit is waiting for God to send us an earthquake to make a decision very obvious. As we talked about in reference to the typical mode of operation of God, He usually speaks in the "stillness."  If we wait for an earthquake, we can live in a constant state of indecision always waiting but never acting. At least for me, God did not speak to me and tell me what to do. He used other people to relay His message, but most importantly, God moved me to follow His will through a sense of peace. It was a peace that endured and was felt while in prayer.
So when I felt at peace, I knew I had to act. In the midst of it all it certainly appeared strange to me. I ended up pursuing three different paths; priesthood, religious life and marriage. Yet when I look back at it, I can see how God was guiding me all along and gave me the formation I needed to be the man I am today. I even see that I naturally would not have left seminary if I felt a call to marriage, so God worked with that and had me leave seminary pursing a call to the religious life, only then to divert me to what He truly wanted me to do.
I do not regret anything as God knows what He is doing. All I need to do is trust. God's will might seem strange at times, but following it will give you a peace that endures.
You can use these three principles in discerning God's will, whatever it may be. It doesn't have to be your "vocation" in life, but it could even be discerning which house to buy or what job to take. 
In all things, let us Put on the Armor of God!
---
---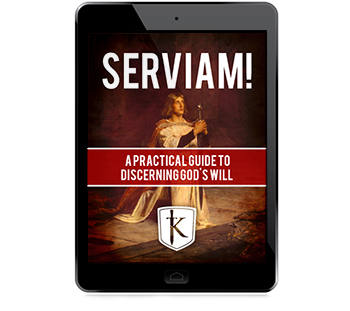 Serviam! A Practical Guide to Discerning God's Will
(ebook)
Discernment is a lifelong process. There is always something to discern. Even after finding your vocation in life, there will be numerous decisions that will need to be made. This guide is meant to cut through the fog and speak honestly and practically how to discern God's will. Writen in a simple and succinct manner, this eBook will aid those who either do not have much time to sit through a whole book, or those who are younger and are on the brink of embarking on a new path in their life.
---