Recently I have been brainstorming new ways to evangelize youth and young adults and the thought hit me: what about comic books? Oddly enough, while the comic book industry took a hit during the past two decades, sales over the past year have skyrocketed. This is due in part to the rise in superhero movies and has resulted in a new audience craving fantastic adventures.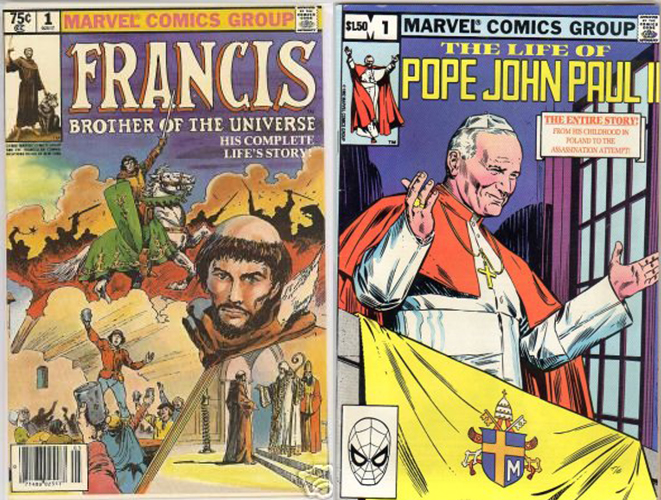 The comic book realm is an interesting one, being a visual format accessible to many different age groups. It presents unique opportunities for evangelization to an audience who wouldn't typically pick up a book about a saint.
Which brings me to my latest idea: Saint/Catholic historical fiction comic books.
This has been done before very successfully by none other than Marvel. In the 1980s they collaborated on three highly successful comic books. One was on John Paul II, another was on on Saint Francis and the third on Mother Teresa (See the cover photos of two of them above).
According to a Franciscan priest who was a consultant, "over 1 million copies have been sold (15 million readers, according to Marvel's statistics) and the comic book has been translated into French, Chinese, Japanese, Spanish (two different editions), Portuguese, Afrikaans, Swahili. The last copies of the English version finally went out of print last year, having had a great run from 1980 to 2007."
A Franciscan scholar said, "Already more people have been introduced to the life of St. Francis through this publication than through any other book since the time of Francis."
Currently I am in the process of writing a script for my very own Catholic comic book series and have an illustrator deeply interested in helping me realize my project. However, before I go any farther I wanted to get your feedback.
Could you please take the survey below? It only takes five minutes and will help me immensely!
–> CLICK HERE TO TAKE THE SURVEY <–
Thank you!