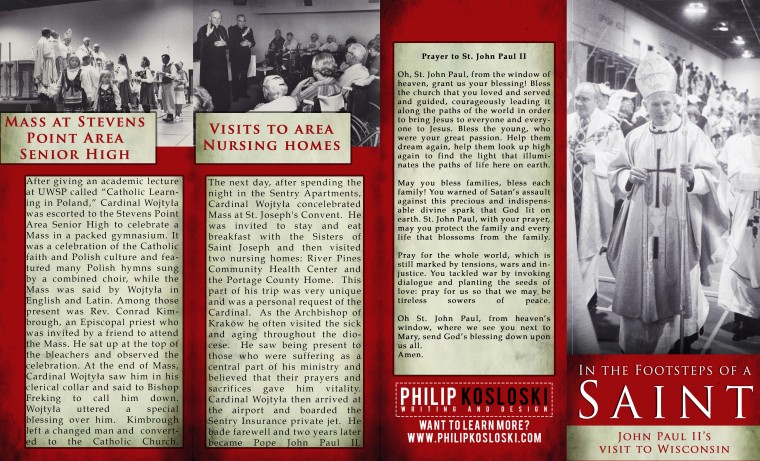 While we all wait patiently for the publication of my book on John Paul II's visit to Central Wisconsin, I have decided to design a pamphlet highlighting his visit to be distributed to parishes and groups throughout Wisconsin. This small summary of his visit is meant to help preserve the memory of his visit and to increase devotion to Saint John Paul II in Wisconsin.
The pamphlet gives a brief recount of his visit, along with a few short stories. His visit is not well known among the local residents and virtually unknown throughout the state. This will allow more people to know about it and will set the stage for the publication of my book that will offer a more detailed narrative of his visit.
If you are interested in acquiring these pamphlets for your Church, School, or group, please e-mail me at: pakosloski (at) icloud.com. The cost of printing these pamphlets varies by the amount printed. It will range between $1 and $2 a piece for larger quantities (for example, it will cost about $300 for 200 pamphlets).  If you want it for a small amount of people, like your friends and family, the cost will be higher.
I am excited at the opportunity to share such a rare event in the life of Saint John Paul II. Help me to preserve this great memory that provides further evidence of his sanctity!