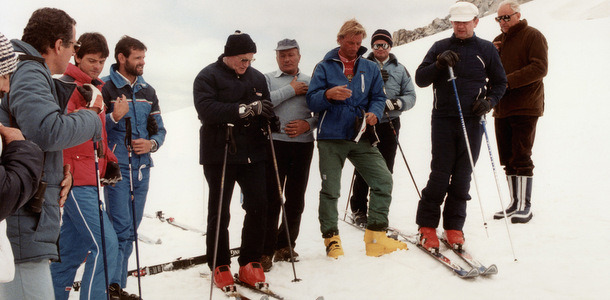 On this feast of Saint John Paul II, here is my latest post on Aleteia:
…Many saints had a great love for the outdoors and took any opportunity to enjoy nature. Here are five such examples in hopes that it will inspire us to spend a little more time with God's creation, appreciating the world he has created for us.

Blessed Pier Giorgio Frassati

Frassati loved the mountains. He once wrote to a friend, "With every passing day I fall madly in love with the mountains; their fascination attracts me." Frassati loved to climb and ski with his friends, often seeking out the highest peaks. During his short lifetime, Frassati was a member of the "Italian Alpine Club and climbed the Gran Tournalin (3,379m/11,086ft), the Grivola in the Val d'Aosta (3,969m/13,022ft), Mon Viso (3,841m/12,602ft), the Ciamarella (3,676m/12,060ft), the Bessanese (3,532m/11,588ft)" and other smaller peaks.

He is probably most well known for a phrase he wrote on the back of a photograph of him climbing a mountain: Verso l'alto ("toward the top"). After his death it became a phrase associated with his constant desire for sanctity and reaching for the goal of eternal life.

Saint John Paul II

In 1954, Father Karol Wojtyła was awarded a "Bronze Badge for Hiking Tourism" by a local organization in Poland. Wojtyla won this badge for hiking on foot on multiple occasions during that year, totaling 166 km (103 miles). More than half of these excursions were completed during the winter (November 1 – March 31).

Throughout the remainder of his life, John Paul II would go hiking, skiing and kayaking with groups of friends as a priest, bishop, cardinal and pope. He even sneaked out of the Vatican to ski and did so at least 100 times!

Needless to say, John Paul II loved the outdoors.

Saint Hubert

Appointed Bishop of Liège in 708, Hubert is more widely known for his conversion story and a legend regarding a vision he saw while hunting a deer. During his youth, Hubert spent his days hunting, even skipping out on Church services.

On Good Friday one year, while the faithful were attending services, Hubert pursued a magnificent stag. After drawing close to it, the animal turned and, as the legend narrates, he saw a crucifix between its antlers, and heard a voice saying: "Hubert, unless you turn to the Lord, and lead a holy life, you shall quickly go down into hell." Hubert then prostrated himself and said, "Lord, what would Thou have me do?" God said in return, "Go and seek Lambert, and he will instruct you."

Hubert sought out Saint Lambert, who instructed him and set him on the pathway to sanctity. Saint Hubert is regarded as the patron saint of hunters and is also known for promoting ethical hunting practices, treating animals as part of God's creation.